Hyperbaric oxygen therapy, or HBOT, is a treatment that helps heal wounds and boosts the body's immune system through pure oxygen. Specifically, patients in hyperbaric oxygen chambers breathe oxygen in air pressure levels 1.5 to 3 times higher than usual. This increases the amount of oxygen in the blood, which carries oxygen-rich plasma to wounded tissue.
Medical professionals have used HBOT for decades to treat decompression sickness from deep-sea scuba diving and carbon monoxide poisoning. Now, clinical trials show that HBOT might benefit long-haul COVID-19 patients, halting the progression of the virus and related pneumonia, rejuvenating hypoxic organs, and accelerating the body's natural healing process.

What Can Hyperbaric Oxygen Therapy Do?
First used in the early 20th century, HBOT has proven an effective treatment for ill scuba divers, people such as firefighters and miners suffering from carbon monoxide poisoning, and patients who need specialized wound care. Medicare, Medicaid, and many insurance companies generally cover HBOT for numerous conditions, including:
Cyanide poisoning
Compromised skin grafts and flaps
Gas gangrene (where gas collects in tissues)
Traumatic or acute inadequate arterial blood flow
Osteomyelitis (infection in a bone)
Air or gas embolism (air or gas trapped in a blood vessel)
Necrotizing soft tissue infection (also called flesh-eating disease)
Tough-to-heal diabetic wounds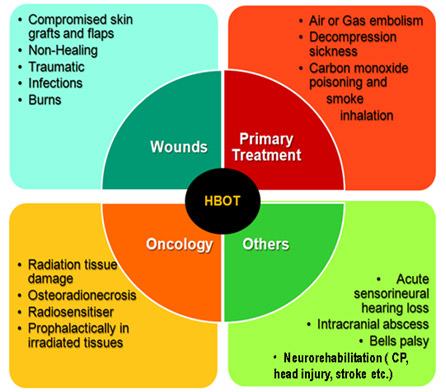 What Happens During HBOT?
During HBOT, you just need to breathe. Patients enter a hyperbaric chamber in which they can sit, lie, or relax comfortably and take deep breaths of pure oxygen for up to two hours. The blood carries extra oxygen throughout the body, infusing injured tissues so they can heal.
People who use these types of chambers report feeling pressure in their ears, similar to flying on an airplane or climbing in high altitudes, but swallowing or chewing gum removes the pressure. Other side effects are mild, including claustrophobia, lightheadedness, headaches, and fatigue.

How Can Hyperbaric Oxygen Therapy Help Long-Haul COVID-19 Patients?
During the pandemic, hospitals in China and the United States have used HBOT to treat dozens of critically ill COVID-19 patients with pneumonia, severe breathlessness, and multiple high-risk factors including heart disease, diabetes, obesity, and hypertension. After a short cycle of HBOT, patients consistently have made swift and full recoveries.
The World Health Organization has officially recognized and classified HBOT as a drug-free, non-invasive treatment for COVID-19. HBOT is FDA-approved for a variety of tissue ailments and respiratory disorders associated with COVID-19.
Although, as an outpatient facility, we at Advanced Hyperbaric Recovery, do not treat currently infected COVID-19 patients, we have successfully treated long-haul patients—those who now test negative for COVID-19 but still have debilitating symptoms. Many have returned to work in high-profile and demanding positions.

Learn More About HBOT at Advanced Hyperbaric Recovery
Only a healthcare provider should prescribe HBOT. Anyone interested in HBOT at Advanced Hyperbaric Recovery must have a written prescription and protocol written by a California licensed physician. Each person must meet with our medical director before starting this treatment to rule out any contraindications.
For more information, please call us at (415) 785-8652.